The River Pebble Spa Wash Cloth
When the sun comes out and the weather warms up, it's transformative, isn't it? Even in the midst of everything that's going on in the world, we have to remember to soak in the joyful moments and practice self-care. Something as simple as a pretty little crochet wash cloth can make your ensuite feel like a spa.
Besides, the sun, and it's restorative properties, lead the way to those gorgeous summer clothes and a lot more skin. That's why I wanted to create a gorgeous, rustic looking, spa wash cloth that would help to exfoliate at the same time as washing and restoring that glowing skin.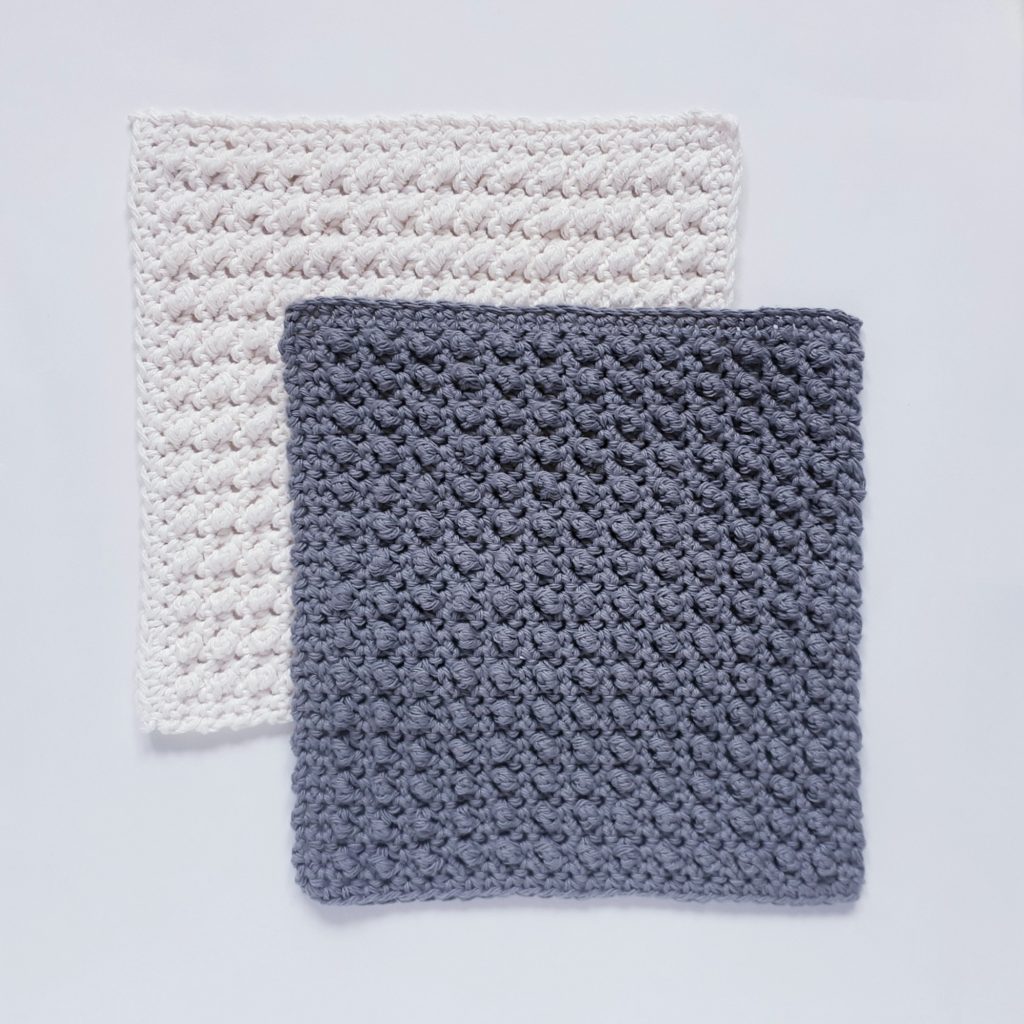 The little bobbles on this spa wash cloth remind me of river stones, thus the name. They're created alternating SC with TC and I have been using this stitch a lot lately. When I'm inspired, even by a stitch, I just run with it and I'm glad I ran with it in this case.
Measuring 9″ x 9″ these are a generous size for your spa-like bathroom. In white or grey they have a great farmhouse-style appeal but they would look amazing in a turquoise for a beach themed bathroom or bright yellow for the kids.
For more patterns where I use this faux bobble technique, check out these patterns: The Faith Throw, Belle Bobble Basket and the Marais Handbag.
LET'S GET MAKING! Scroll down for the FREE pattern for this crochet wash cloth OR you can PURCHASE the Ad-Free, printable version from my Etsy store HERE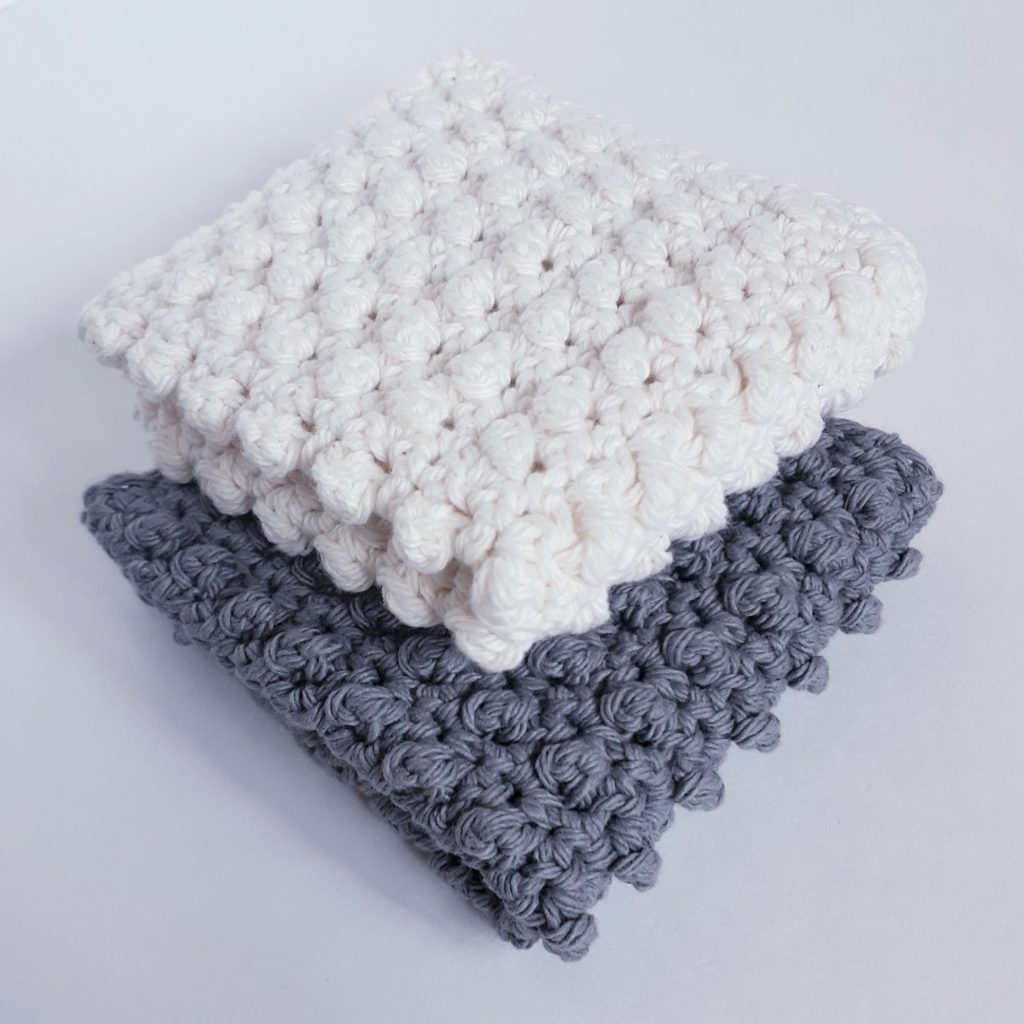 SUPPLY LIST
5 mm hook
Any Category 4 Cotton yarn (Yarn Used: Bernat Handicrafter in Off White and in Overcast)
Approx yardage: 80 yards / 73 meters (1 skein per cloth)
Scissors
Tapestry needle
STITCHES / ABBREVIATIONS
YO – yarn over
CH – chain
ST – stitch
SC – single crochet
TC – triple crochet
SIZES
One Size
FINISHED MEASUREMENTS
9" x 9"
GAUGE
N/A
DIFFICULTY LEVEL
Beginner
PATTERN AND SIZING NOTES:
– The stitch count is given in parentheses ( ) at the end of each row
– The 'faux bobble' is made by a triple crochet among single crochets where the single crochet pulls the triple crochet down to the single crochet height and pops it out
– It's really important that, in the rows where you're creating the faux bobble, you keep the single crochet that follows the triple crochet very tight to make the fake bobble pop out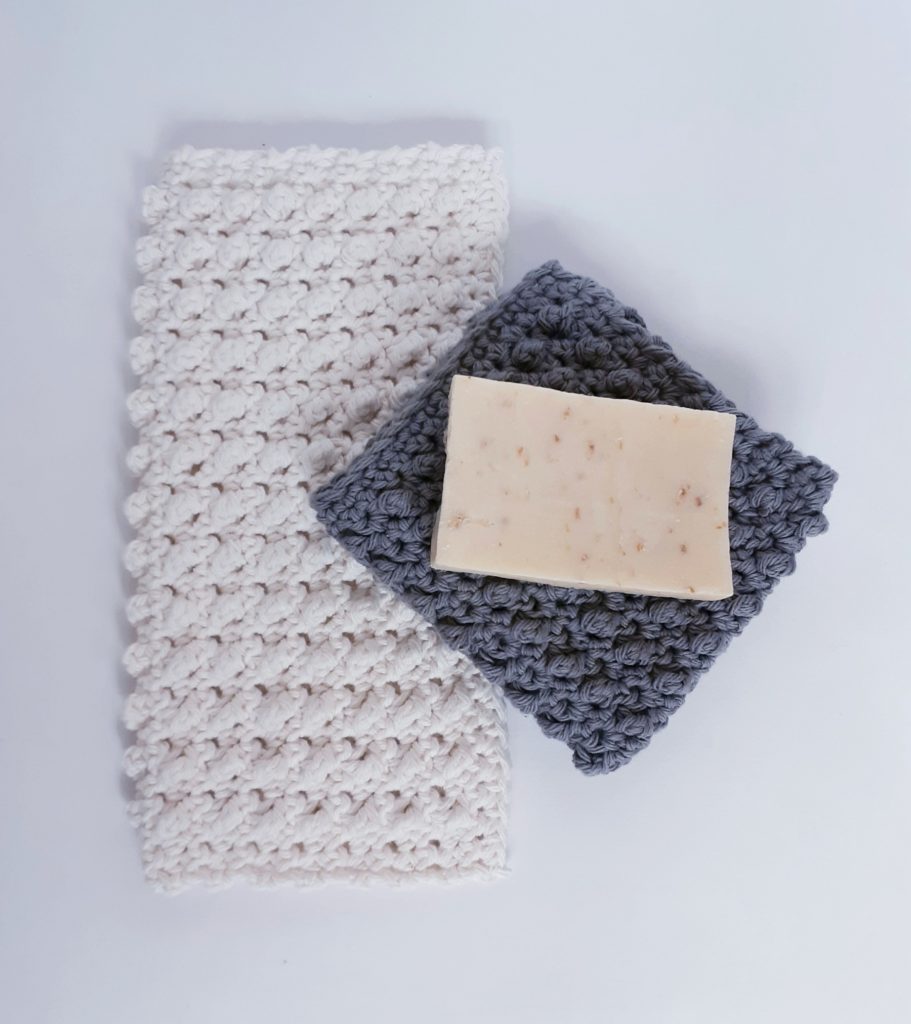 – The border on this crochet wash cloth is built in, so Rows 1, 2, 32 & 33 are done in SC to create the border at the top and bottom of the cloth, and for the border on the sides, SC x 2 are maintained at the beginning and end of every row (note, this pertains to the 'right' side where the bobbles are, since all 'wrong' side rows are SC anyway, see pattern below)
INSTRUCTIONS:
With your 5mm hook, CH 29 + 1 to turn
Row 1: Starting in the 2nd CH from the hook, SC in each ST across, CH 1 & turn (29)
Row 2: SC in each ST across, CH 1 & turn (29)
Row 3: SC x 2, [TC x 1 then SC x 1] and repeat [ to ] to ST # 27, then SC x 2, CH 1 & turn (29)
Row 4: SC in each ST across, CH 1 & turn (29)
Row 5 to 32: repeat rows 3 & 4 until the end of row 32 (29)
Row 33: SC in each ST across, YO and pull through to tie off
Weave in your ends and voila, a charming little spa wash cloth that will be a hit for your home spa or as part of a gift set!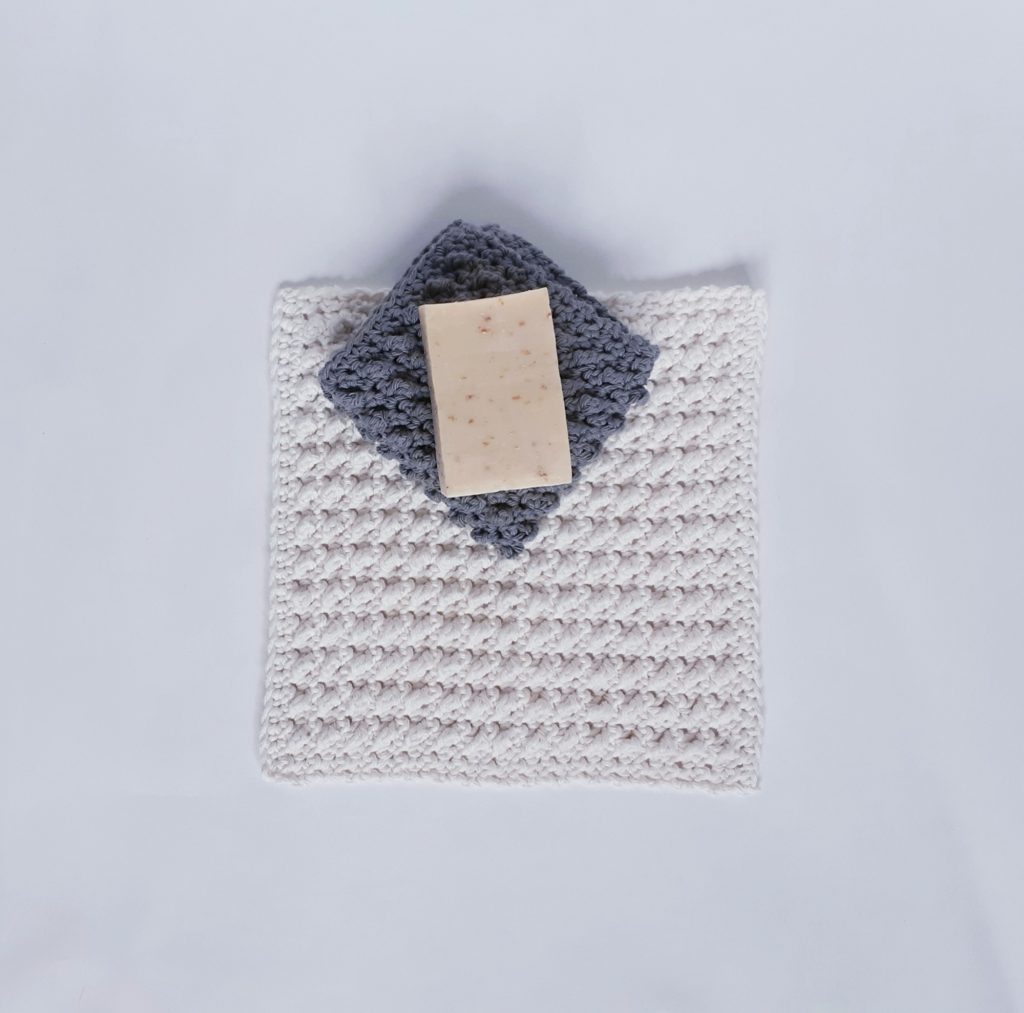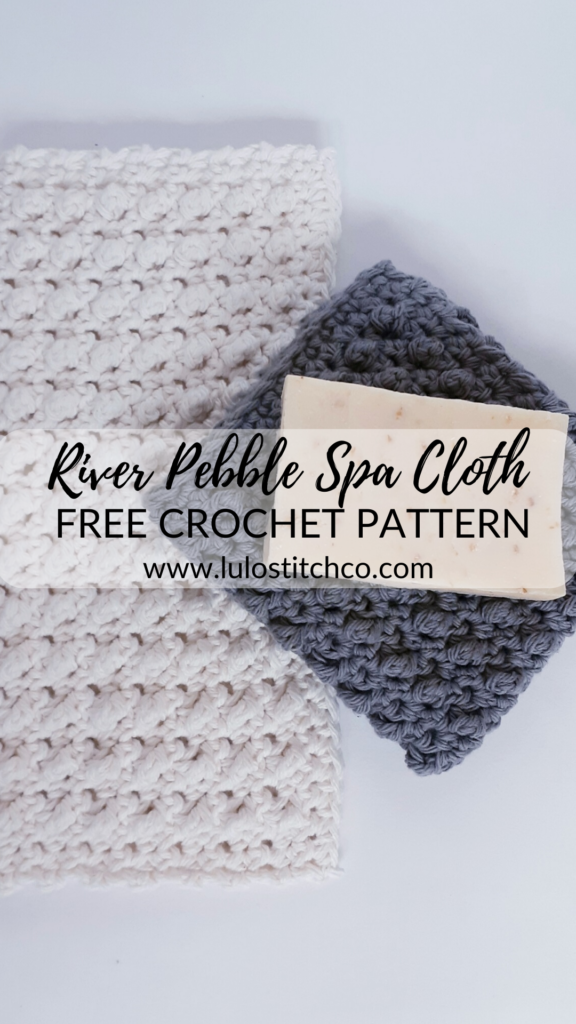 (Visited 20,880 times, 9 visits today)