Today's pattern is the trendy "Chelsea" Crochet Scarf – a chunky super scarf for all occasions!
'Tis that time of year when us makers begin to plan our holiday gifts, pouring through patterns and figuring out what we want to make for our loved ones. It can be a fun time as long as we plan well enough in advance!
I'm starting to get in to that mode as well. I don't mind, it means more trips to peruse all the beautiful yarns and to find things to challenge myself. I haven't forgotten to make a gift for myself, though, something for these cooler fall days. And something super simple and quick to make so I can spend more time on my gift-making efforts.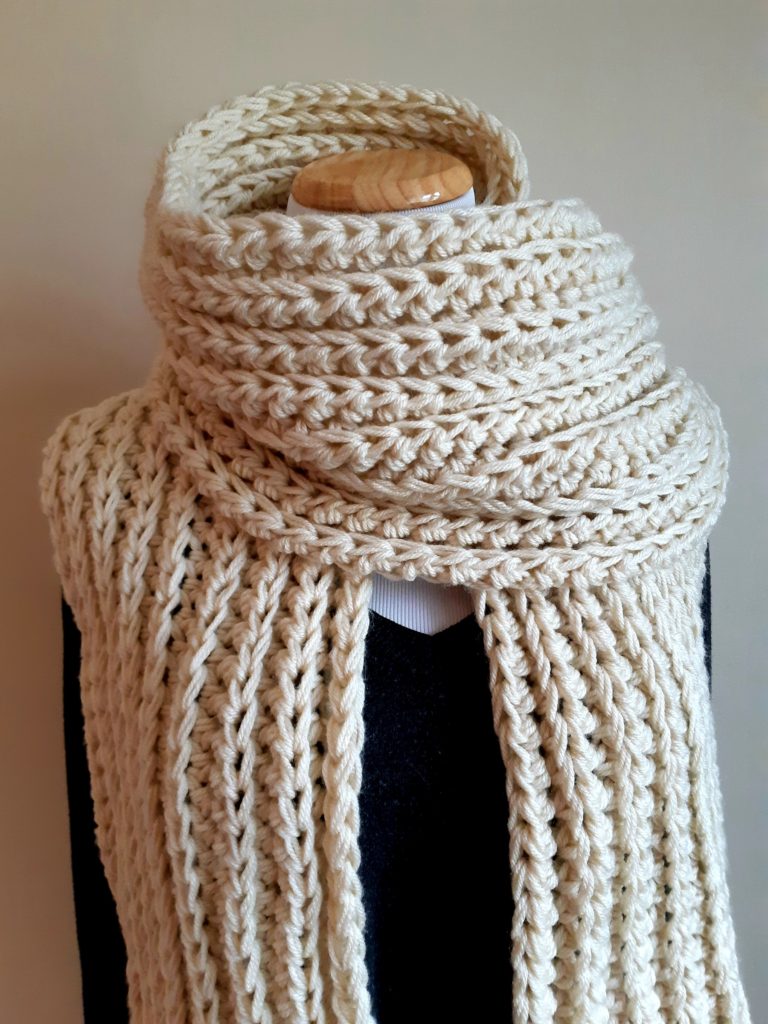 I love the look of the chunky crochet super scarf and, in this off-white color, it will go with any outfit and any jacket. I've already had many comments and compliments when I've worn it out these last few days.
While I kept this crochet scarf simple without border or fringe or pom-poms or tassels, I may end up adding fringe for a little added interest. That's what makes a simple and easy pattern like this so great, though, is you can customize it however you like. You can easily make it wider or longer to suit your tastes. I have been thinking about making another in a deep wine color or maybe a burnt orange, I think the texture of the ribbing will show up beautifully in these colors.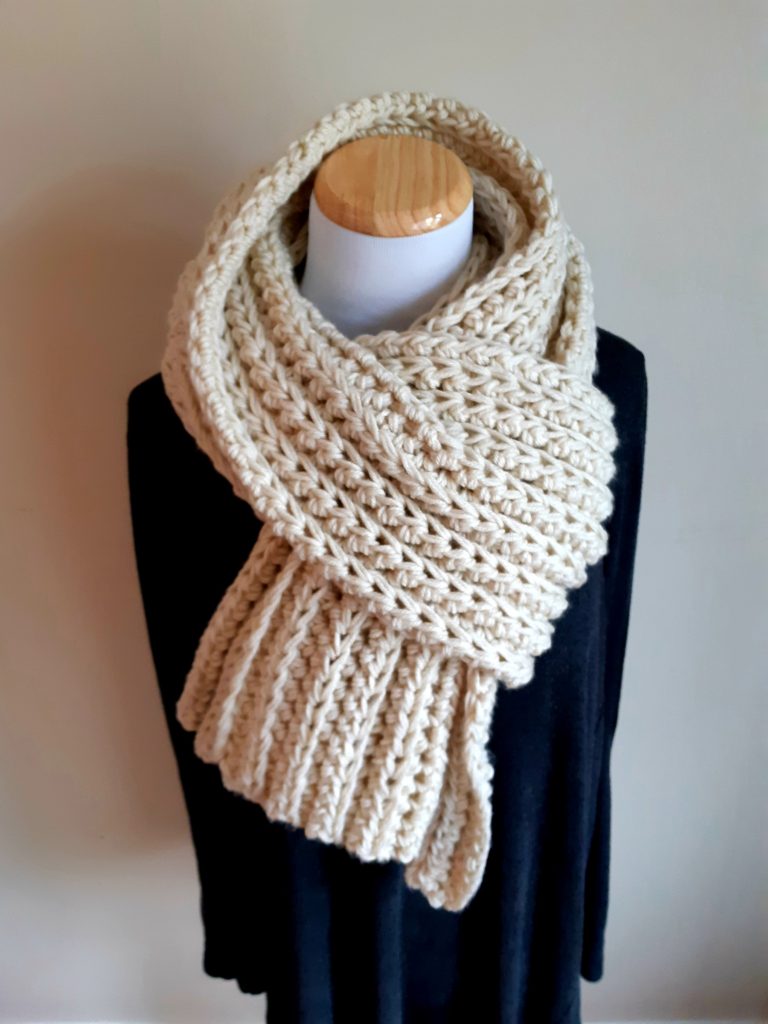 For more amazing crochet scarf patterns, take a look at the Brighton Super Scarf, the Jessen Super Scarf and the Diosa Crochet Hooded Scarf.
LET'S GET MAKING! Scroll down for the free pattern below OR you can get the Ad-Free, printable version from my Etsy store HERE
SUPPLY LIST – 9mm hook & 10 mm hook, Any Category 4 WW yarn, Yarn Used: Caron Simply Soft in Off White, Approx 1100 yards (1005 metres) – < 4 skeins, Scissors, Tapestry needle
STITCHES / ABBREVIATIONS – CH – chain, HDC – half double crochet, HDC BLO – half double crochet in back loop only
SIZES – One Size Fits Most – adjust chains or rows to fit your preference or style
FINISHED MEASUREMENTS – 9.5" width x 74" length
GAUGE – N/A
DIFFICULTY LEVEL – Beginner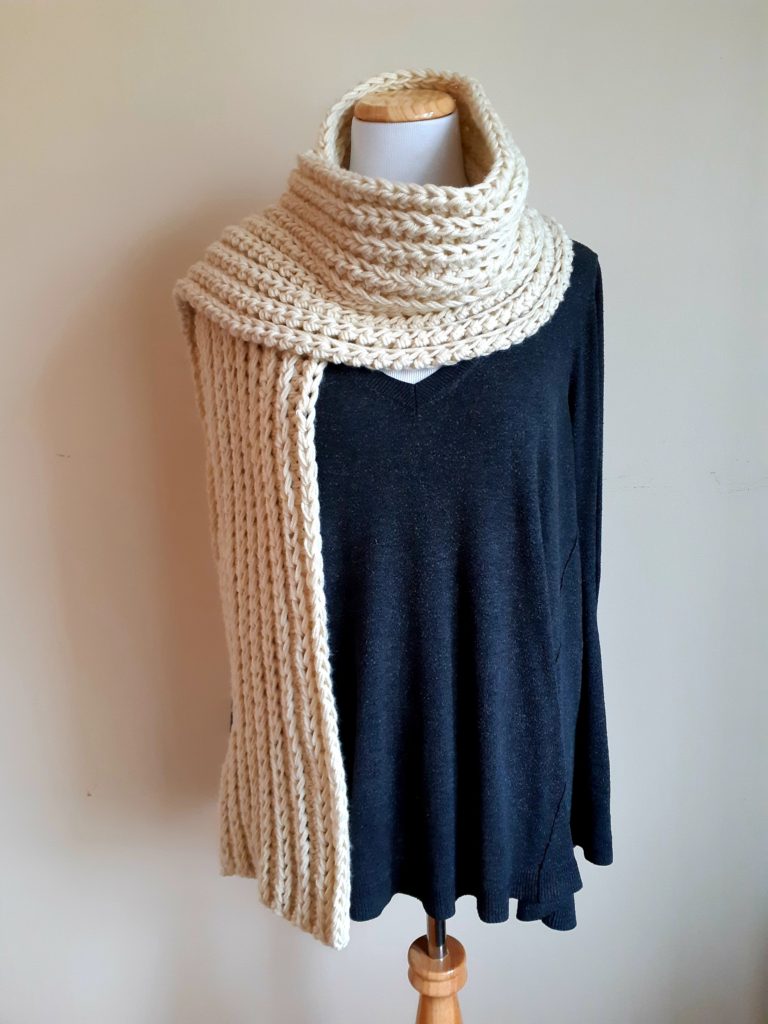 PATTERN AND SIZING NOTES –
– This crochet scarf is created using a category 4wt yarn (Caron Simply Soft) but any category 4wt yarn will do
– This crochet super scarf is made using 2 strands of yarn held together to create a chunky, bulky look
– The foundation chain of this scarf is done using a 9mm hook but the rest of the scarf is done with a 10mm hook
– Chain 2's at the beginning of each row do NOT count as a stitch – To wash/care instructions: This is an acrylic scarf, so the suggestion is to wash on gentle setting, then shape and lay flat to dry
INSTRUCTIONS –
Using 2 strands of yarn held together, and with your 9mm hook, CH 140 + 2, turn
With your 10mm hook henceforth:
ROW 1: HDC in each stitch across (140)
ROW 2 to 17: HDC BLO in each stitch across (140)
Tie off and weave in ends
OPTIONS:
– You can adjust the length to make this an even more "super" scarf by adding to the foundation chain
– You can add tassels or pom-poms or fringe to the long end of each scarf for more added interest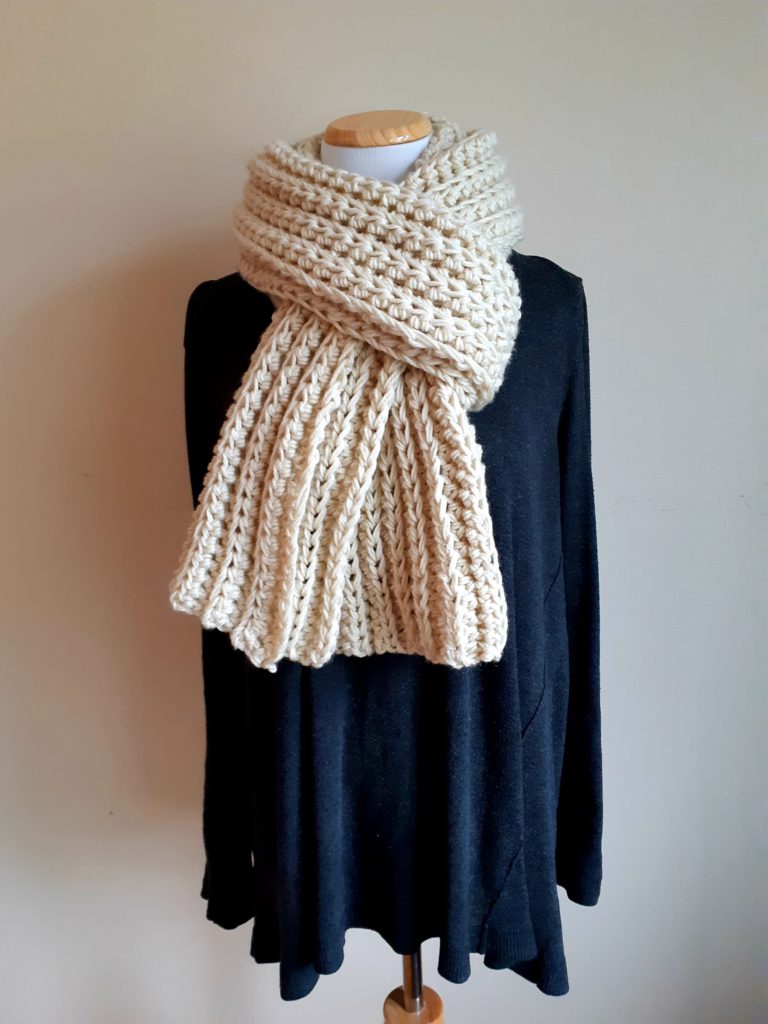 (Visited 10,637 times, 4 visits today)