"BROOKSIDE" MODERN CROCHET PLACEMAT
PURCHASE THE AD-FREE PDF ON ETSY OR RAVELRY.
Just in time for the nice weather and al fresco dining, is this modern crochet placemat, the Brookside. It will make a great addition to your table, inside or out!
I love the textured border of this piece, it ads some visual detail while still keeping the placemat clean and uncluttered. The stitches are simple and the design is easy, worked from the bottom up in one piece.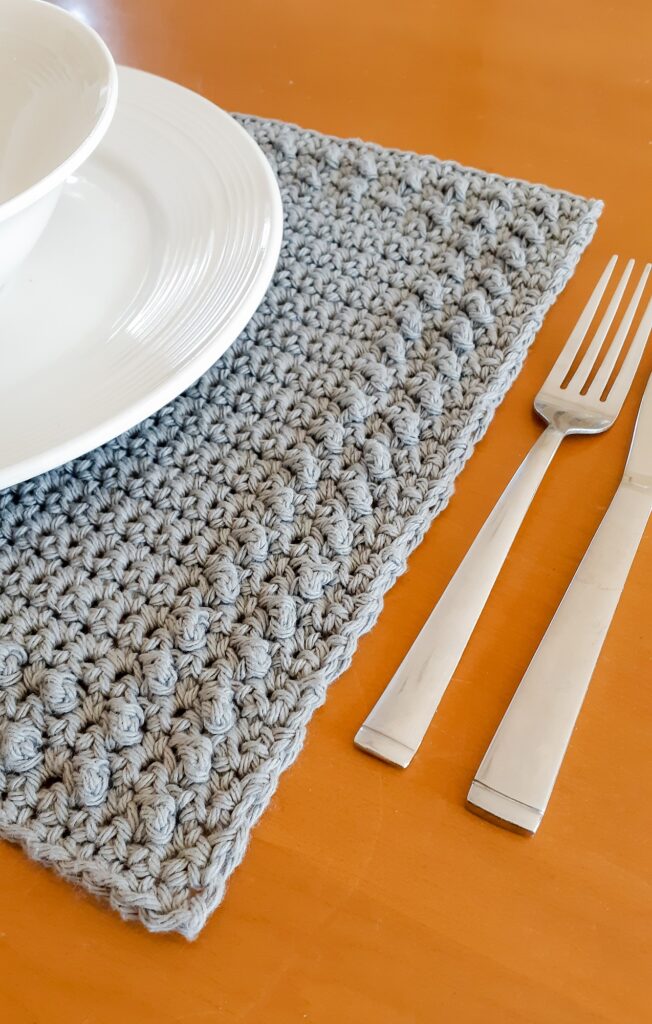 I used Bernat Handicrafter cotton for this crochet place mat, but you can use any Category 4 cotton yarn. You could even use an acrylic if you like, although I think cotton works better for homewares, especially those that you may need to clean frequently.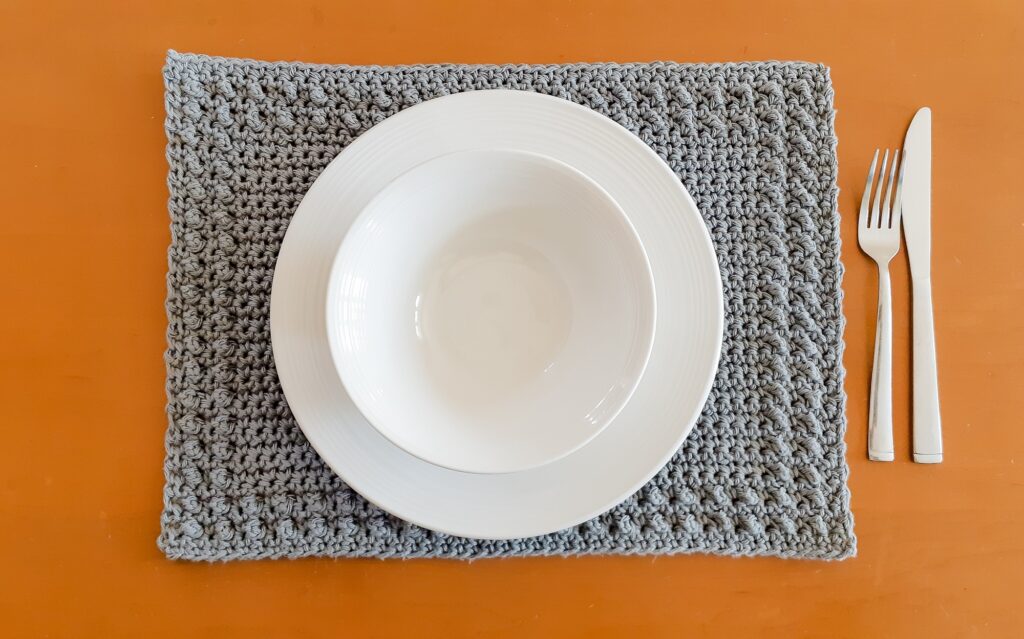 For other homeware ideas, check out the Springridge Placemat & Coaster Set, the Farmhouse Basket and the Duo Scrubby Washcloth.
LET'S GET MAKING! Scroll down for the FREE pattern below for this filet crochet turtleneck sweater OR you can PURCHASE the Ad-Free, printable version from my Etsy store HERE
SUPPLY LIST
6 mm hook
Any Category 4 cotton yarn (Used: Bernat Handicrafter in Overcast)
Approx yardage: 225 Y / 205 M
Stitch Markers, Scissors & a Tapestry needle
STITCHES / ABBREVIATIONS
**All stitches are in North American terms**
YO – yarn over
CH – chain
ST – stitch
SK – skip
BB – back bump (of the foundation chain)
SC – single crochet
TC – triple crochet
SIZE
One Size
FINISHED MEASUREMENTS
16" w x 12" h
GAUGE
14.25 rows x 11 stitches = 4" x 4"
DIFFICULTY LEVEL
Advanced Beginner
PATTERN AND SIZING NOTES
– This modern crochet placemat is made as one piece from the bottom up.
– If you do not know how to do a TC (triple crochet) you can find lots of tutorials online, but it is just like a double crochet except you are yarning over twice, inserting your hook through the stitch and yarning over twice on the way up.
– The single crochet after each triple crochet must be TIGHT to pull down the height of the triple crochet and pop it out as a little bobble.
– Keep the tension on your single crochet in the middle of the crochet place mat quite loose, if you can.
– The CH 1 at the beginning of each row (except the first row) IS COUNTED as a stitch. As such, from Row 2 forward you will be skipping the 1st ST in each row because the CH 1 counts as a stitch. This keeps the side edges cleaner.
– Stitch count for each round will be indicated in parentheses ( ) at the end of the row.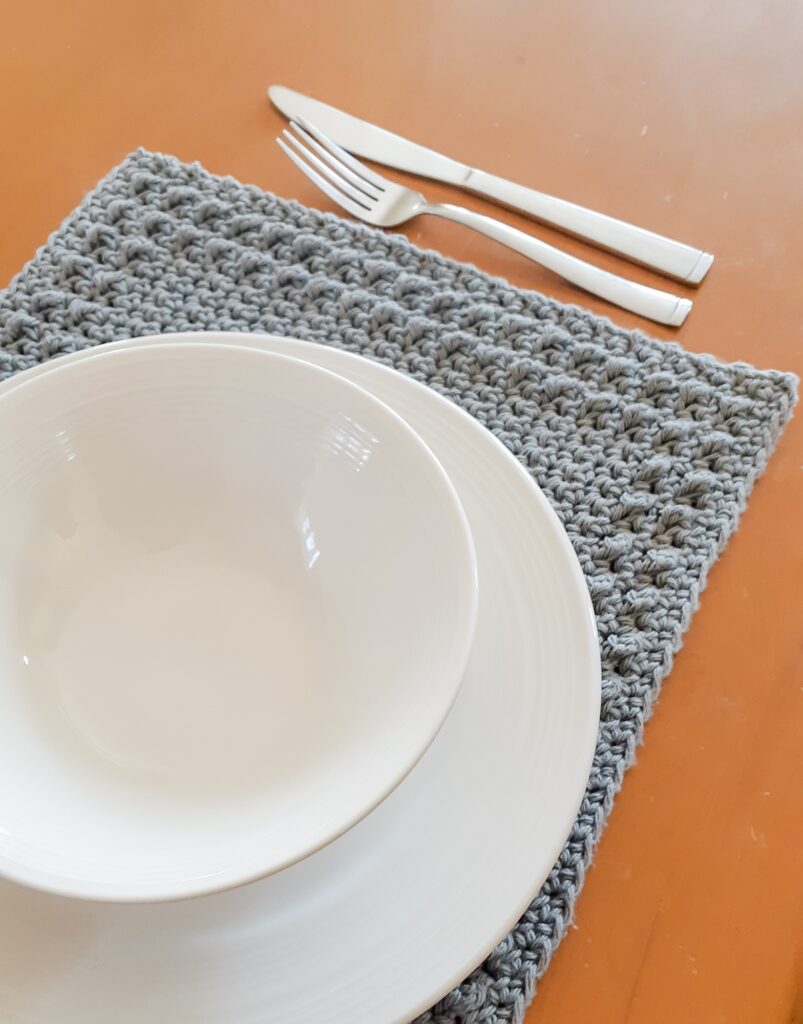 INSTRUCTIONS for Modern Crochet Placemat:
CH 45 + 1 to turn
Row 1: Starting in the 2nd BB from the hook, SC in the BB of each ST across the starting chain, CH 1 & turn (45)
Row 2: SK 1st ST, SC in each ST across, placing last ST in the CH 1 from the row below, CH 1 & turn (45)
Row 3: SK 1st ST, SC in 2nd ST, TC, SC, TC, SC and repeat [TC, SC] except the last 2 ST's which are SC (remember your last ST goes in the CH 1 from the row below), CH 1 & turn (45)
Row 4: SK 1st ST and SC in each ST across placing your last SC in the CH 1 from the row below (45)
Row 5: Repeat Row 3 (45)
Row 6: Repeat Row 4 (45)
Row 7: SK 1st ST, SC, TC, SC, TC, SC x 35, TC, SC, TC, SC x 2, CH 1 & turn (45)
Row 8: SK 1st ST, SC in each ST across, CH 1 & turn (45)
Rows 9 to 34: Repeat rows 7 & 8 (45)
Row 35: Repeat Row 3 (45)
Row 36: Repeat Row 4 (45)
Row 37: Repeat Row 3 (45)
Row 38 & 39: Repeat Row 4, except at the end, YO pull through and tie off (45)
Weave in all ends and VOILA, a beautiful modern crochet placemat that will add style and elegance to your table!
(Visited 4,648 times, 7 visits today)