"SUNDAY" CHUNKY CROCHET BLANKET
I can't tell you how excited and happy I am to be done this crochet throw blanket. Not only is it nice to complete a larger project (sigh of relief) but I am perpetually cold and this is, by far, the softest, squishiest and warmest chunky crochet blanket I have ever snuggled up with.
Now that winter is upon a lot of us, there's nothing more hygge and enticing than cozy blanket, a hot cup of tea and a good book or our fave show. With the holidays around the corner, there's going to be a lot of relaxing after amazing meals and fun family times, so get your blankets ready!
I wanted a chunky crochet blanket with a very soft yarn, so chose to make this of Bernat Softee Chunky, which is a 6wt yarn. The stitch is one I've used before, the Even Moss Stitch, but I just love the way this looks in the bulky yarn, don't you?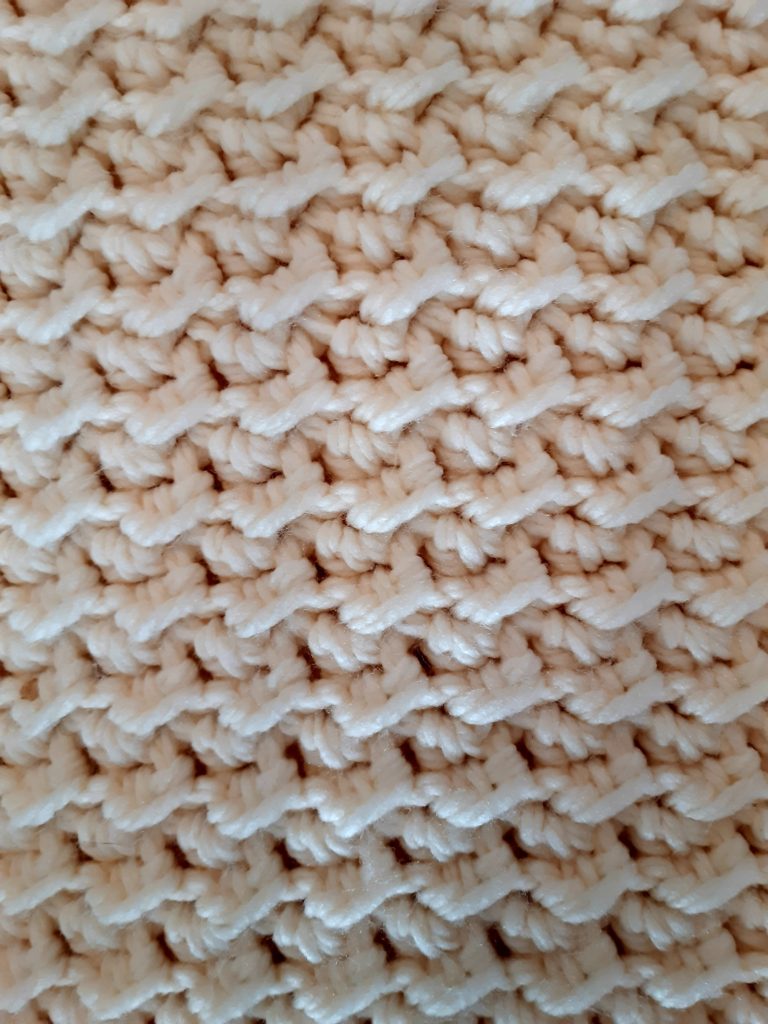 Rather than add a border afterward, I wanted to keep this one simple and the border is built-in with single crochet as you progress. It creates a more modern appeal, I think, and keeps it fresh-looking.
While I choose a natural color, I think this Sunday Throw would look stunning in a teal or a coral. Or any color for that matter! You've just enough time to whip one up before the holidays!
For more scrumptious blanket patterns, take a look at my Faith Throw, my Luna Throw and my Andrea Throw.
LET'S GET MAKING! Scroll down for the free pattern below OR you can get the Ad-Free, printable version from my Etsy store HERE
SUPPLY LIST
STITCHES / ABBREVIATIONS
10 mm hook
Any Category 6 (bulky) yarn
Yarn Used: Bernat Softee Chunky in Natural
Approx yardage: 1725 yards / 1575 metres (4 x 14oz "big balls" of the Softee Chunky)
Scissors
Tapestry needle
ST – stitch
CH – chain
SL ST – slip stitch
HDC – half double crochet
EMS – Even Moss Stitch (alternating between slip stitch and half double crochet across a row)
SIZES
FINISHED MEASUREMENTS
N/A
64" x 45"
GAUGE
DIFFICULTY LEVEL
8 ST x 10 Rows = 4" x 4"
Beginner
PATTERN AND SIZING NOTES
– This project is made using the Even Moss Stitch (EMS – alternates HDC and SL ST across a row)
– Each row containing EMS has SC in the first 3 and last 3 stitches of a row, leaving an odd number of EMS stitches in the body of the throw, which means each row must alternate between starting with the HDC and the SL ST)
– Rather than complete a border after the body of the throw is complete, the border is built in to the throw with SC along the top, bottom and sides
– Since a blanket is a big project, see the end of the pattern for TIPS/TRICKS to keep track of your rows and stitches throughout the project
– Total stitches in a row = 125 (3 SC, 119 EMS, 3 SC)
– Total rows in the project = 113 (4 SC rows, 105 rows of EMS/3 SC border, 4 SC rows)
– To wash/care instructions: This is an acrylic throw, so the suggestion is to wash on gentle setting, then shape and lay flat to dry – if attaching tassels permanently, the suggestion is to tie a hair elastic as close to the end of the tassel as you can to keep it from fraying during washing.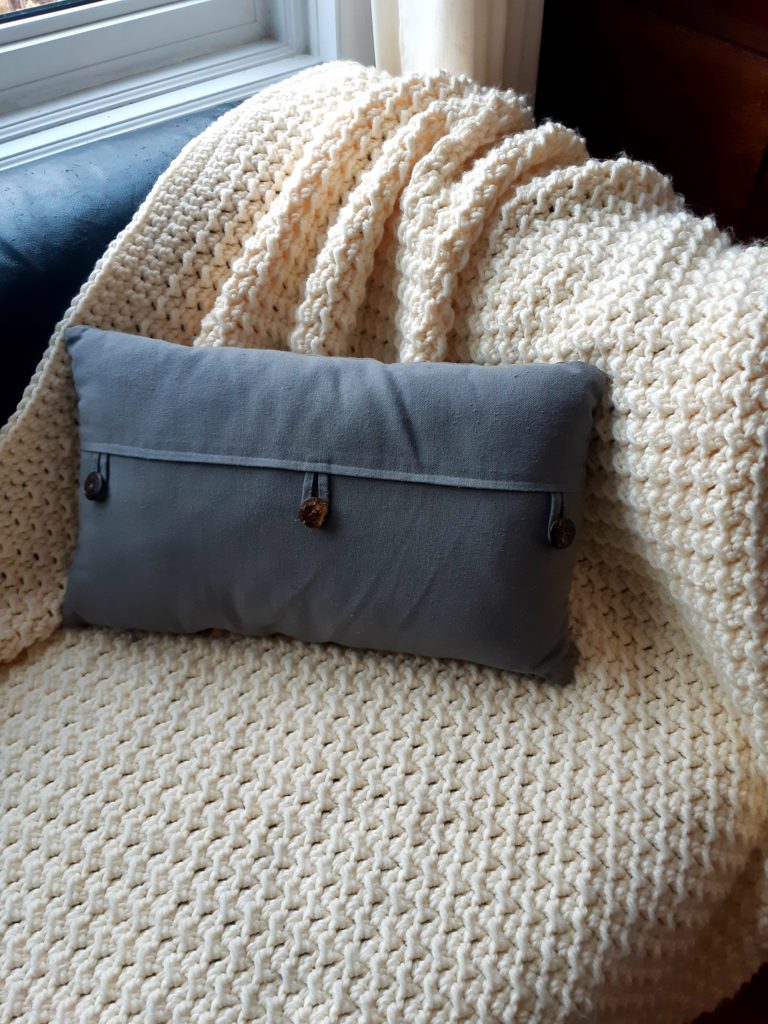 INSTRUCTIONS —
CH 125 + 1 as a turning chain
Rows 1 to 4: SC across each stitch (125)
Rows 5: SC x 3 ST, <HDC 1 then SL ST 1> and repeat < to > for 117 ST, 3 x SC , CH 1 & turn (125)
Row 6: SC x 3 ST, <SL ST 1 then HDC 1> and repeat < to > for 117 ST, 3 x SC, CH 1 & turn(125)
Rows 7 to 109: alternate between the instructions for rows 5 & 6 respectively, starting the EMS portion of odd rows with HDC and the EMS portion of even rows with SL ST, always CH'ing 1 at the end to turn (125)
Rows 110 to 113: SC across each stitch (125)
Tie off and weave in ends
***SOME TIPS & TRICKS BELOW, SCROLL DOWN***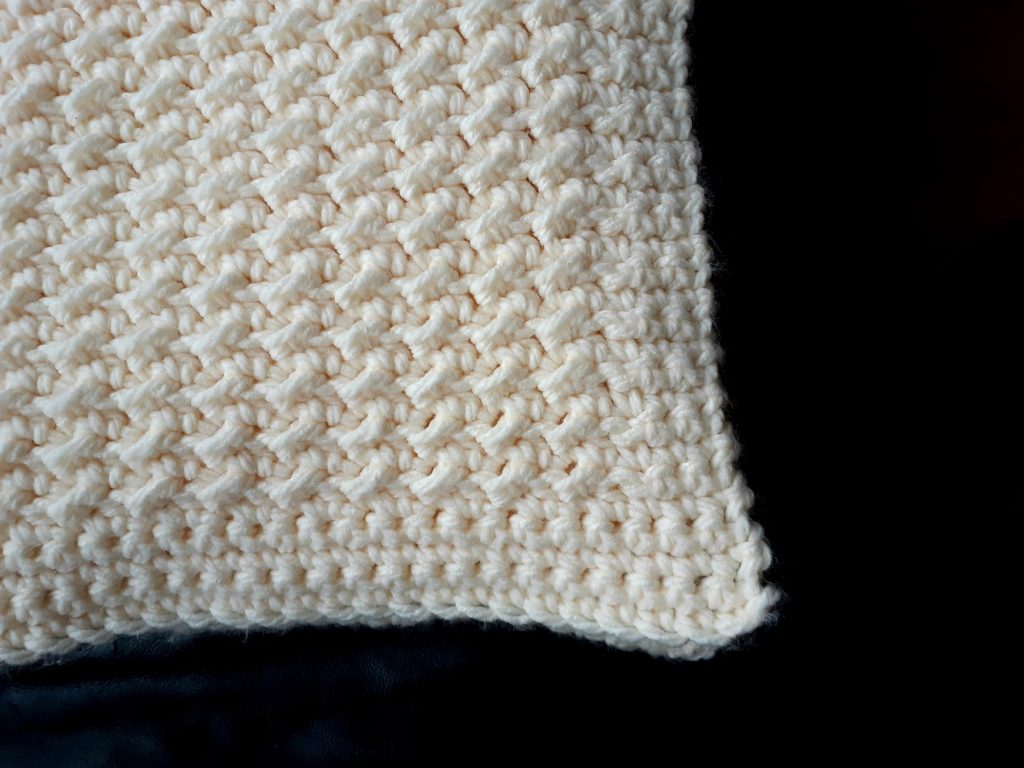 TIPS & TRICKS:
Since a blanket can be a big project and it's easy to lose track of what you're doing either in terms of row number or which stitch you're on, check out these pics what will help you to keep better track of your progress
To more easily count up your rows of EMS, use the SIDE where the SC stitches are more clearly defined. It's difficult to count up the rows of the EMS stitches in the body of the blanket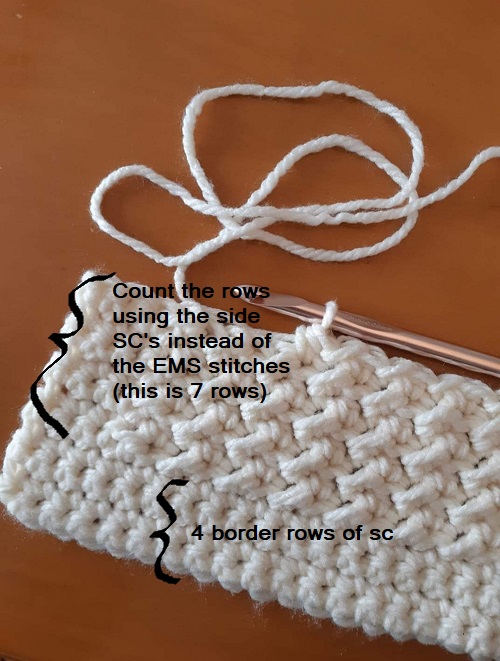 To more easily keep track of which stitch you're in, put SL ST's in the down-turned stitches and HDC in the up-turned stitches.
Also, after the first 3 SC in each row, the EVEN rows start with a SL ST and the ODD rows start with an HDC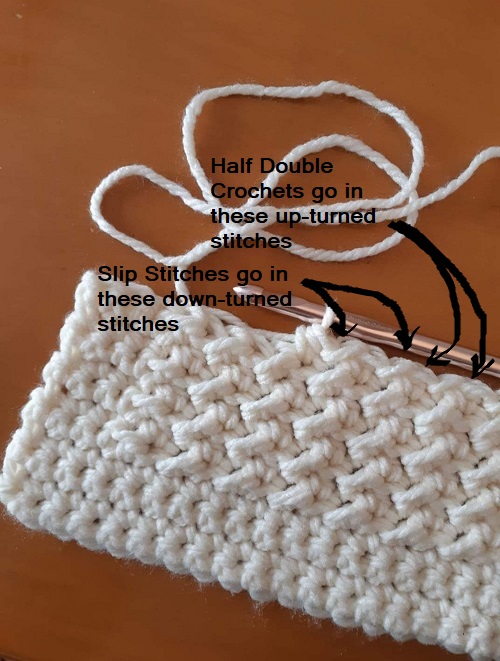 (Visited 71,198 times, 13 visits today)