The Lakeridge Cowl
I told myself that this year I was going to get my Christmas makes started early. So this year, I'm starting in August because, well, why not? I personally see nothing wrong with sitting in the back yard with my feet up, sipping a cold beverage and hooking some fast projects while the kids play, like an easy crochet cowl or neckwarmer… or a simple stunning scarf!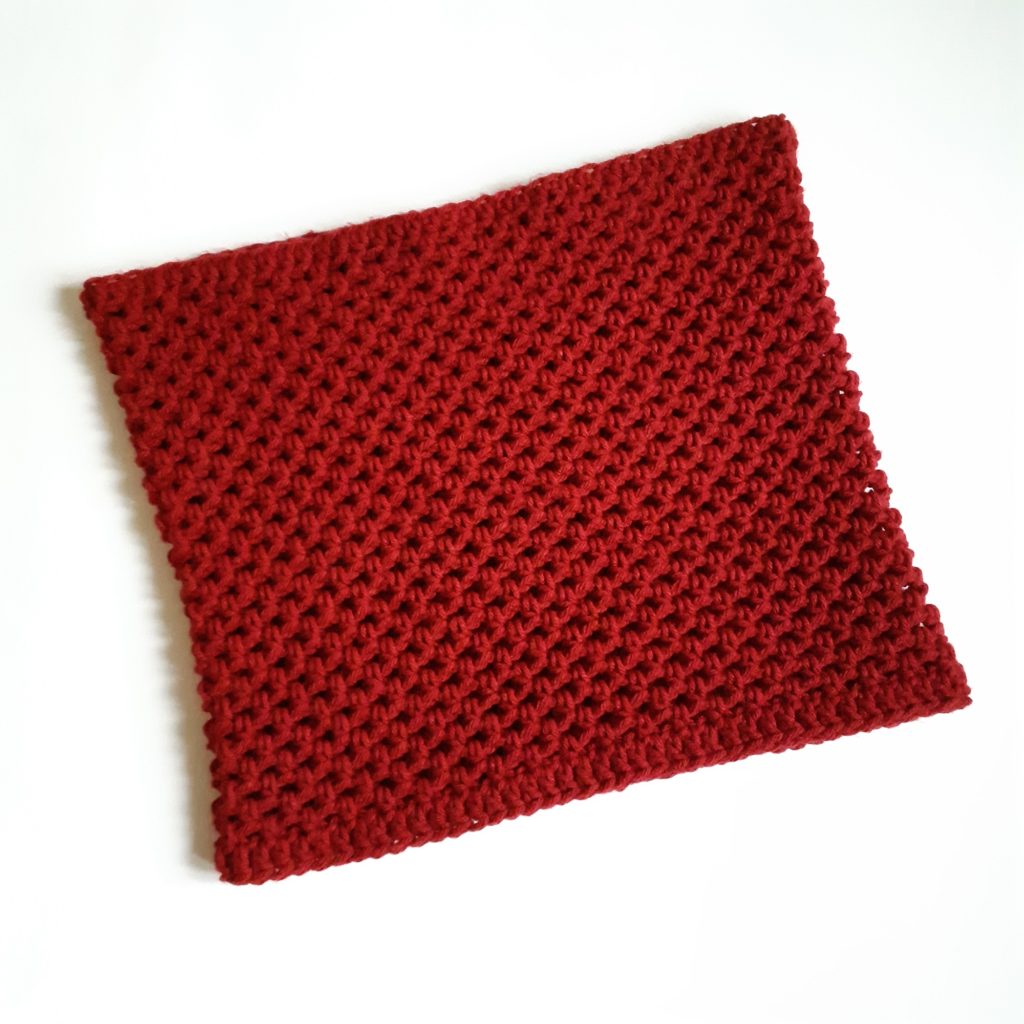 I know I'm not the only one, I've seen a lot of other bloggers with "Christmas in July" campaigns. I may have missed the boat on July (read: the kids kept me so busy I had little time to get myself organized in time, haha) but only by a few days, so I cut myself a little slack 🙂
The pattern I'm sharing today for the Lakeridge Cowl is a really simple, easy and fast crochet neckwarmer that, once you make it once, you'll end up making one for everyone on your list.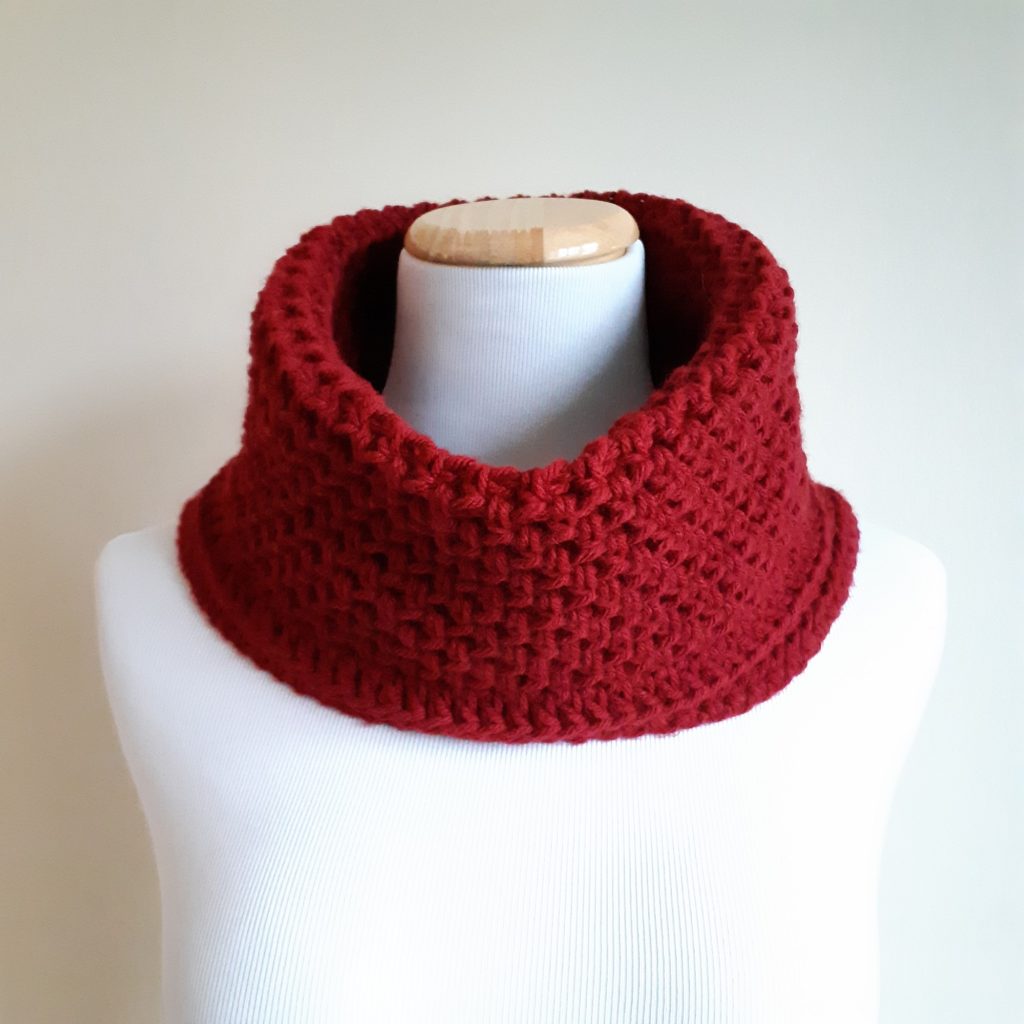 It uses a 4wt yarn but I've upped the hook size to add a fluffier, chunkier feel to it. The hook size makes the work much faster as well. Also adding to the speed of this project is that it uses a stitch like the Moss/Granite/Linen stitch, except using half double crochet instead of single crochet.
You may have noticed by now that I really (and I mean really) am NOT a fan of seams if I can help it and I often do projects in spirals to avoid seams. This is another one of those spiral works. Other than the top and bottom edging which are done in joined rounds, the remainder of the cowl is done as a continuous spiral.
I won't be wearing one of these fast crochet neckwarmers for a while (at least I hope, I mean there's got to be at least another month or more left of good weather) but I plan to make a few of these in nearly every color imaginable. What color will you make yours in?
If you like this fast and easy crochet cowl project, check out my Stonehaven Cowl or for more projects using spiral work and no seams, the Belle Bobble Basket, the Astia Tote Basket or the Farmhouse Basket.
LET'S GET MAKING! Scroll down for the FREE pattern for this crochet cowl below OR you can PURCHASE the Ad-Free, printable version from my Etsy store HERE
SUPPLY LIST
6.5 mm hook
Any Category 4 worsted weight yarn (Yarn Used: Caron One Pound in Claret)
Approx yardage: 80 yards / 73 meters Scissors Tapestry needle
STITCHES / ABBREVIATIONS
YO – yarn over
CH – chain
ST – stitch
SL ST – slip stitch
SC – single crochet
HDC – half double crochet
DC – double crochet
SK ST – skip stitch
SIZES
One Size Fits All
FINISHED MEASUREMENTS
12" height, 13" width
GAUGE
Not important, but 10 ST x 6 rows = 4" x 4"
DIFFICULTY LEVEL
Advanced Beginner
PATTERN & SIZING NOTES:
– This easy crochet cowl is made with DC rows/rounds on the top and bottom (2 rounds) and the body of the cowl is made using the Half Double Crochet and Skipped Stitches (like Moss/Granite/Linen stitch only using HDC instead of SC) for a total of 30 rows/rounds
– Other than the first joined round and the last joined round, the remainder of the cowl is made in a continuous spiral
– The CH 3's in the first joined round and the last joined round (which form the edging of the top and bottom) count as a stitch
– Keep the tension on your foundation chain a tiny bit more loose than usual since you're working with a larger than normal hook for this yarn weight (4wt)
– While we are counting "rounds" in this cowl, the number I give is more of a suggestion, since you're more working to the measurement – so as long as you're happy with the height of the cowl and you've completed a round lining up with your foundation tail at the bottom, you can complete the final joined round edging
– This cowl is completely versatile and can be made longer or wider to accommodate your tastes – simply start with a longer foundation chain (as long as it is an even number) to increase width or add more rounds to increase length – Stitch count for each round will be indicated in parentheses ( ) at the end of the round
INSTRUCTIONS:
CH 80 and SL ST to your first CH to join a circle
Reminder: Rounds 1 & 30 are joined rounds, the remainder of the cowl is done in a spiral
Note: Normally I would mark the first stitch in a round, even in a spiral, just to keep track of my round count, but since the starting stitch shifts, you can just count your rounds from where they line up with the tail on your starting chain instead of marking it
Round 1: CH 3, DC in each ST around, SL ST to top of CH 3 to join (80)
Round 2: CH 3, HDC in the 3rd ST, <CH 1 & SK ST then HDC in the next ST> and repeat < to > for the round ending on an HDC in the 80th ST (80)
Round 3: Once you've HDC'd in the 80th ST, CH 1 and HDC in the first 'space' from the round below, then <CH 1 & SK ST then HDC in the next ST> and repeat < to > for the round (80)
Round 4 to 29: repeat the pattern of <CH 1 & SK ST then HDC in the next ST> for rounds 4 to 29 (or until the cowl is about 11" in height) and end your round so that it lines up with (over top of) the tail from your starting CH – SL ST in to that lined up ST (80)
Round 30: CH 3, DC in each ST around (being sure to go IN to the chains and the stitches and not in to the spaces like you do in the body of the cowl), SL ST to top of CH 3 to join (80) YO and pull through to tie off, weave in your ends and voila, an adorable, easy crochet cowl that will keep you toasty in style!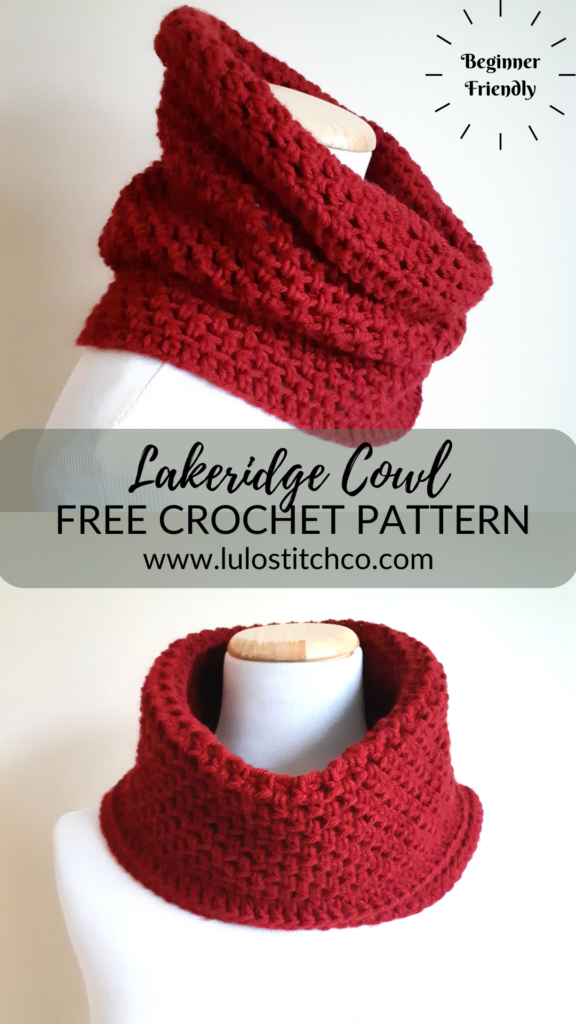 (Visited 9,879 times, 1 visits today)